Publisher:

Patakis Publications

Edition:

5th (1st, 2001, Kedros)

Available in:

Paperback, e-book

ISBN:

9789601679723

Published:

1st March 2019
Link to Patakis Publications
Ο Άγγελος της Στάχτης συνεχίζει το τραγούδι του νεκρού αδερφού, δημιουργώντας έναν καινούριο μύθο που φτάνει ως το Άδυτο της ψυχής να βρει το μακρύ ταξίδι της στη Νεκυια. Ένας νέος άνδρας χίλιων χρόνων, ένας σύγρονος Ορφέας, καταργεί το άβατο του Άδη και συγκρούεται με τον Σκοτεινό Θεό για να πάρει πίσω την αγαπημένη του. Είναι ο Κωνσταντίνος, ένα πλάσμα μαγικό και τρυφερό αλλά και παντοδύναμο που θα ζήσει τον απαγορευμένο έρωτα του θνητού στη μουσική του Φοίβου.Θα συναντηθούν στο λυκόφως των δύο κόσμων.
Από τη μια, ο τόπος των Ψυχών με τις εντολές του χάους. Από την άλλη, πρόσωπα σημερινά, ανυποψίαστα. Κι ανάμεσα τους, Εκείνος. Αθώος και μυημένος, θα βιώσει τη μεγάλη μοναξιά, την Ύβρι, την απόρριψη, την ευφυΐα του. Σαν ορφικός εραστης περιπλανιέται ανάμεσα στη Στιγμή και στην Αιωνιότητα. Και γίνεται Άγγελος. Αναδυόμενος από τη στάχτη. Φως από φίλντισι και καθαρμό και άσσωτο πόνο της αγάπης, το ευαγγελικό πρόσωπό του. Ένα μυθιστόρημα αναρχικό, σαγηνευτικό, τολμηρό, που οδηγεί την Ψυχή στο ξεφωτο της μεγάλης Αλήθειας.
"Περπάτησα κι εγώ, μαζί με τον χιλιόχρονο ήρωά μου, τα μοναχικά μονοπάτια της αντίπερα όχθης, να βρω τα δάκρυα του άλλου πόνου, της άλλης μνήμης, τα σημάδια της oρφικής γνώσης που αναζητούσε. Περπάτησα τους δρόμους της ψυχής με τους ασφοδελούς λειμώνες, να βρω τη χαμένη της περιπλάνηση, το μεταφυσικό ταξίδι της όπως βιώθηκε από την Πρώτη Μνήμη. Η εύθραυστη πραγματικότητα όπου έζησαν τα πρόσωπα αυτού του μυθιστορήματος – με το 'υπερφυσικό' να εισχωρεί στη λογική και να την ανατρέπει – ήταν μια άλλη εμπειρία, μια διαφορετική αυτογνωσία".
There is a famous Greek folksong titled "The Lay of the Dead Brother". It is about the tragic story of a mother with nine sons and a daughter of renowned beauty. The mother fears that she will lose her daughter to marriage in a faraway land. An eligible suitor from abroad does appear, and the marriage takes place at the insistent urging of her youngest son, Konstantinos, who dearly loves his sister. Konstantinos swears to his mother that should a need arise, he will go abroad himself and bring back his sister. Time goes by and all the nine sons, including Konstantinos, are slain in a raid. His mother calls to Konstantinos from the grave to rise and go to fetch his sister. The story is about the forcefulness of a son's oath to his mother, that transcends the rules of life and death.
The Angel of Ashes is based on "The Lay of the Dead Brother," but it goes beyond to create a new myth.
The hero of the novel is Konstantinos of the folksong. After dying, he has wandered for a thousand years seeking his identity and purpose. Now, in the society of the 21st century he is closer than ever to unlock the secrets that will enable him to fulfill the promise to his mother, by retrieving from Hades his beloved sister. Instrumental to this effort is Phoebus, a famous musician striving to escape from the superficiality of modern life. And he comes to live near the Gates of Hades*, at the Acherousian Lake*. Phoebus' music and affection hold the key to Konstantinos' purpose. The two principal characters of the story, Phoebus and Konstantinos, are emotionally united in that they both share a profound uncertainty about their purpose in life. They carry with them different worlds and different memories. Konstantinos' quest is to remember his thousand years wandering, Phoebus' is the outcome of his frantic ascent to glory and fame and his subsequent disillusionments. They approach each other through tenderness and compassion and together help each other along the paths leading to self-knowledge. They seek their soul by different ways, Konstantinos coming from erebus*, Phoebus as a contemporary man, who with his music will obliterate the inaccessibility of Hades.
* Gates of Hades: A site in northwestern Greece known from Homeric times as the mythical place of the Dead; Its ruined structure exists even today.
* Acherousian Lake: The Lake on which traveled the boat carrying the souls to the Hades.
* Erebus: The darkness of Hades.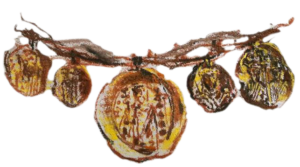 Extract from the novel
The three of them are on the deserted path and the moon moves among the drooping trees and the dark waters. Phoebus holds the lamp high to light their steps. Konstantinos leads the way, Kerberos, his tongue hanging, is behind him, and Phoebus is last. Like the other time. When they were going to the sea cove.
read more