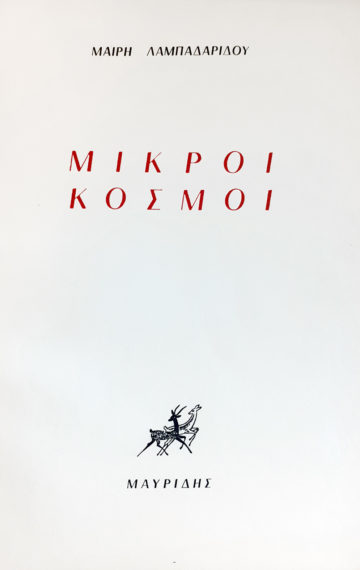 Publisher:

Mavridis Publications
The adolescent times I used to recite Eliot's lyrics on the shores of Lemnos lead me to Small Worlds. The effect is obvious. But that doesn't seem to bother me. With these "Eliotic" delusions I bid farewell to what I lost, the magic of youth on the island. Or maybe, fearful of the reality I live in, I return there. I return with my poetry. A wrinkled poetry.

"Poets dont know how to sing anymore
that's why they fill sheets with wrinkles"
Reviews
Small Worlds, review by Andreas Karantonis
Μικροί Κόσμοι, κριτική Καραντώνη στη Νέα Εστία
Ποιητικά, Κριτικά Κείμενα, Ανδρέα Καραντώνη
Every morning
The song of the dead brother
Will awaken you from the ashes.

You never thought of the wound left behind us
that summer
The bird with the stone wings
And Sephes' boats moored in the beachfront of Chryse
wretched wood for the dead to travel

That summer
the garden was full of tender birds

What where you looking for?
Our eyes full of extinguished candles
from days we didn't live.
What where you doing on those rotten planks
that have never sailed?

You who will come to greet us
you who have never known fear and ashes yet
open with care the "small cage"
The azure girl will await you there
in the garden with the purple flowers.