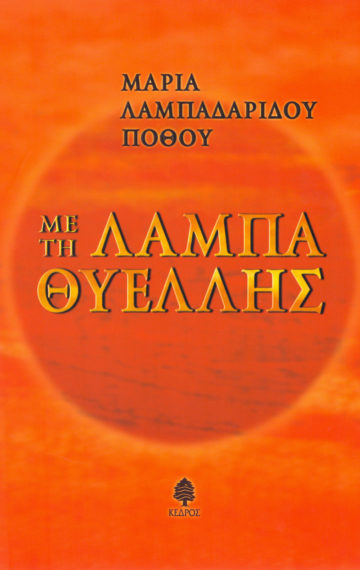 Publisher:

Kedros (to be published in a new edition)

Edition:

2nd (1st, 1993, Kalendis)

ISBN:

9789600436716
Trapped in the mystery and the unseen, the main character of the book seems to live in a crystalline reality, like the creatures destined to live for a single summer and stretching their lifetime through the fall that is not for them. It is the beauty of a purifying love that will lead him to the torment of knowledge. And it is the dead soldier who will make him aware of his insignificance. He is alone marking the tormenting path of man on earth. A price for his forbidden knowledge.
Using my dreams as navigation, I tried to reach the sanctuary of the soul, to reach the other truth, the inexplicable. An experience that makes the novel fragile and bare in the hands of the reader.
Literary award by the Academy of Athens, 1995
Reviews
Recommendation to the plenary session of the Academy of Athens by Tasos Athanasiadis
Με τη λάμπα θυέλλης, κριτική του Δημήτρη Σταμέλου
Με τη Λάμπα Θυέλλης, κριτική μελέτη του Δημήτρη Γουνελά, μίξη του τραγικού με την υπερβολή: ΄Ενα από τα πειράματα της μ. λ. π.
The earthly magic of the orphic narration by Zoe Samara
Λάμπα Θυέλλης, κριτική στην Νέα Εστία του Ε.Μόσχου 
Λάμπα Θυέλλης, κριτική Ελένης Χωρεάνθη στην ΟΔΟ ΠΑΝΟΣ, αυθεντικό
Ομιλίες
Η γυναίκα στα μυθιστορήματά μου, ομιλία στο Γαλλικό Ινστιτούτο Βόλου
Συνεντευξη
Συνέντευξη στον θεατρολόγο  Γ. Χατζηδάκη, το αυθεντικό
Εργαστήρι
Με τη Λάμπα Θυέλλης, σκέψεις της συγγραφέως, εργαστήρι
συνδεσμος στο αυθεντικό, "πολεμώ τη λήθη"
Excerpt