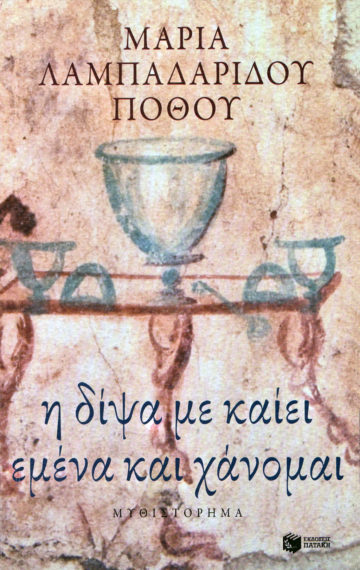 Publisher:

Patakis Publications

Edition:

1st

Available in:

Paperback, e-book

ISBN:

9789601651880
Link to Patakis Publications
Book presentation at IANOS bookstore
With the lyrical verse "My thirst burns me and I'm lost", Maria Lambadaridou's new novel unfolds on the deserted streets of Athens, but also deeply in the mystery of love. Love as passion and as nostalgia for passion. As a sacrifice and as a ritual of silence. The characters develop their own defense to escape their desolated reality. To find the "eternal" stone that will give them beauty and the lost sanctuary. It is the mark of the other truth they seek, of the other knowledge, that will grant them their inner liberation. Fragments of memory and dream, of a time wounded, of a burning thirst, of a groove bloodied in the swamp of a dead soldier, of twilight paths lost in the fog.
"I am innocent, sir"
"Yes, but your innocense cannot save you"
Made from the raw materials of rage and love, the novel walks the dark, Freudian paths: from Soul to Soul.
This book is my 21st novel and it's about the attempt of someone who lost everything to find himself or the lost sanctuary. It traces the dark paths of the soul that lead to the inner truths, to the inner sources, to raise a defense in the desolate landscape.
Reviews
Thirst burns me and I am lost, review by Kalliopi Exarhou
"Η δίψα με καίει εμένα και χάνομαι", κριτική της Ζωής Σαμαρά
Thirst burns me and I am lost, review by Eleni Choreanthi
Interviews
Thirst burns me and I am lost, interview with Eleni Gkika
Author's thoughts