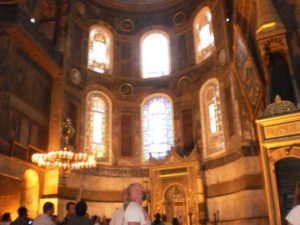 And since everything now takes the path of a clean negotiation
Because post-crying or post-grief is of no use.
Because History and the mistakes throughout History are repeated without teaching any lesson - since only consciousness teaches.
And because something good can still come out of all this, if only there is some measure of good decision-making.
I am suggesting this dialectic:
In the camp of Sultan Mehmet - then - in May 1453, there were 35 thousand Christians, while the defenders along with the emperor were five thousand bloodied and exhausted. But young Mehmet used them with an infallible method. He let them use their arrows to send messages to the emperor about his decisions.
Today, the sad events took place with the same strategic method: The current sultan announced his decision to turn the Hagia Sophia into a mosque and waited. And when he saw that the "road was open" without any resistance, he proceeded. This has always been their strategy. They were feeling out their way first.
Nor will they stop proceeding in the same way.
I had my hopes that the Pope would intervene - especially with the historical guilt that weighs on him, if it weighs on him, for the annulment of the Pope then, the one he had agreed with Palaiologos - against the unifying liturgy of the filioque.
And I say. How fair would an effort be: If there was an understanding that the Hagia Sophia, instead of becoming a mosque, would function, together with the status of a Museum, as a Christian church also, acquiring its original identity - even once a year.
How fair and respectful such an agreement would be! Against their own mosques being prepared here.
Because beyond the official politics, the issue of Hagia Sophia concerns not only the governments but also the soul of every civilized person. Because the Hagia Sophia is not only the Ecumenical Symbol of Christianity, it is also a Symbol of the History of Hellenism, it is a Symbol of the self-sacrifice of those who prefered an honourable death and passed into the pantheon of the immortals together with the martyred emperor and his people.
And my proposal does not exist only in the dimension of Poetry.
I want to believe that it is completely realistic and historically honest. It has all the historical justice.
Posted on July 13, 2020