A fragile stone
from your golden rock
my life
Some things happen just like that, on their own. They come and find us so we can love them. So we can open the way for them to be realized. And we open not only the way but also our heart. As if they are fated. As if they are done because they are meant to be. It's been three years since I had been in the office of the Mayor of Lemnos, Mr. Marinakis, and I begged him to accept my proposal to create a Hall of great benefactors of Lemnos. This effort had lasted for years. I considered the Benefactors Hall as a great idea but also a debt. Just like that, it occurred, or perhaps inexplicably as a convocation of coincidences and appointed time. And I tried for many years to get the project done. Because I had loved this idea, I had believed in it. I saw all those priceless donations, schools, and churches, who knows how many sacrifices her estranged children had offered, then, in the dark years of Turkish slavery, I saw them sink into a relentless forgetfulness, lose the memory of their names and faces, and I said, now let's give them the "proper honor", in these times of devaluation and oblivion, Lemnos, now more than ever must honor its benefactors. Even if it's done after a century.
And so, I was in the office of the Mayor of Lemnos, Mr. Marinakis, and while I was telling him about the need to set up a Benefactors Hall, which he accepted right away, he talked to me about creating a Municipal Lending Library. And then I told him that I would happily donate my own library, all the books that had accompanied me all my life, and that would give me great pleasure. He came to Athens, to my house, and saw the books. He didn't tell me anything at that moment. But shortly afterward, they sent me the decision of the city council granting me an entire Hall in the restored Shaktourion mansion (the same one I asked for the Benefactor Hall). And I was so surprised and thrilled that I didn't know what to say. My compatriots knew how much I loved my home and how through all of my books I tried to give its history and culture.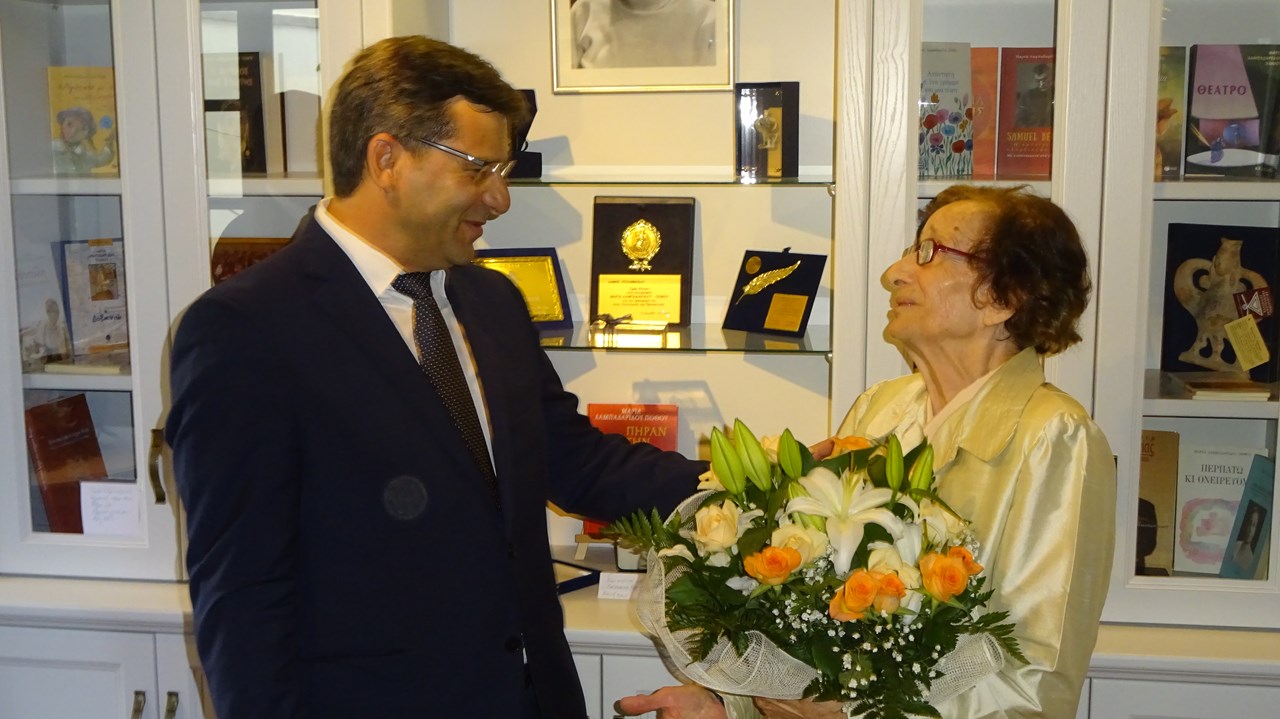 To be honoured by your home is something truly great!
And I gratefully accepted that honor. It was a vindication for me. A return of my own love.
And I sent all my writing effort there. Letters from Beckett, Elytis, doctoral theses on my books, my writings, souvenirs from commemorative events, manuscripts. And I am still sending more things. A Hall of my own to shelter my books and my soul.
With incredible speed, within six months everything was ready and the hall that was donated to me was ready and beautiful and I couldn't believe it. The inauguration took place on October 8, 2017, on the island's Eleutheria, and I will never forget the emotion of that day and the love of my countrymen.
Now, at the beginning of 2020, the completion of the Benefactors Hall is almost ready, but also the inauguration of the Municipal Lending Library, where seven hundred books from my library are already there.
Today, when I think about all this, I feel blessed. And in spite of my gratitude for Mr. Dimitrios Marinakis, the Mayor of Lemnos, I think that maybe Lemnos itself is reciprocating my love. Because somewhere I deeply believe that places are alive. That we communicate with them by unseen and transcendent ways. Places have a sleepless soul within them, which may be their history or their culture or perhaps the life that has passed over them and left its breath, for thousands of years, "as today or yesterday" to quote the psalmist.
Because, as the poet said: "The house is not always smaller than the mountain / man is not always bigger than a flower"
Anyway, that's what I think about it. I like the way my countrymen love me. I like that I wrote as many and beloved stories about Lemnos when I still had no expectation of a payback. I like that there is a hall of my own for the friends and readers of my books to find me there, because I will always be there, among my books, waiting for them.
In a youthful poem, when I left the island to find the fate of poetry, I had written:
Emerald song
sang to you by the waves!

I took you with me and left
Emerald home
And from an old icon
memories of my youth awoken
and mother's prayer
I took you and held you high
in my mind
small white church
the fragnance of my time
thyme and yellowhead.
"And the abyss rose up to my knees"
This is how my Hall in Myrina Limnos came to be. And it is perhaps one of those few incidents of life that have such incredible emotion, so much purity and brilliance that they can cover all the prodigal pain of their creation. And now, as I said, I expect the inauguration of the Benefactors Hall that is ready, as well as the Municipal Lending Library.
Many thanks, as Winny would have said in "Oh happy days" by Samuel Beckett
Athens, January 2020